What did you have for breakfast this morning? Well, we can guarantee that you had a very different breakfast for the people in these countries. After all, these breakfasts around the world are pretty unique…
They always say that breakfast is the most important meal of the day, and we'd wholeheartedly agree. After all, a good breakfast can transform you from a sleep-deprived gremlin into a beautiful butterfly that's ready for the day ahead. It's like a magic tonic for hunger but in a more delicious form. So, what do you have for breakfast? There's a high chance that what you eat before your day of work is different from the food we eat before we head to the office…
The world is full of varied and amazing countries, but did you know that they all offer something different in terms of their breakfast? What you eat could be the complete opposite of what someone in India eats, and what someone in India eats is completely different from what those in France eat. These breakfasts all offer something special, and they all offer a taste sensation that seems to float the boats of those in that specific country. Don't believe us? Well, get ready for your taste buds to be taken on a journey across the globe.
Eastern China
If you've booked a trip to Eastern China, you might be wondering what will be in store when you head out for breakfast. While you probably could find a restaurant that offers food from your native country, why would you want to do that? Eastern Chinese cuisine is second to none, and the breakfast is pretty special.
That's because it normally consists of steamed custard buns, porridge, fried sponge cake, dumplings, rice, and vegetable soup. It's an incredible mix of sweet and savory and seems as though it has everything you could possibly want on one tray. Well, we're sold!
The UK
Although the UK is famous for various different reasons, it seems as though everyone knows the traditional fry-up. There are different variations when it comes to this breakfast, as England, Scotland, and Wales all have their own take on the fry-up, but the concept is largely the same.
A whole host of foods are fried in a pan and then placed on a plate for the people of the UK to enjoy at their leisure. This normally involves bacon, sausages, beans, mushrooms, tomatoes, hash browns, and sometimes even some black pudding! We'll leave you to Google what that last one is…
France
There's a high chance that you're already familiar with the French breakfast because it has become so popular it's also been adopted by others across the globe. After all, who could say no to a lovely, sweet breakfast? The French don't like to add savory items into their breakfast menu, so avoid anything like eggs or meat for their first meal of the day.
Instead, they opt for sugary items such as croissants, jams, and other pastries. Alongside this, they pair this food with coffee, tea, and a whole range of juices. Sounds like our kind of breakfast.
Norway
It's actually quite uncommon for Norwegians to eat breakfast, as they tend to eat lunch pretty early (around 11 am). Dinner is usually around 4 – 5 pm, as well, so breakfast doesn't really tend to happen.
However, that doesn't mean they won't grab a black coffee and something fishy before they head out of the house. One of their weirdest foods is lutefisk which is a gelatinous dried fish that smells as bad as it looks. Still, the Norwegians seem to love it…
Indonesia
If you live in a country where you normally eat sweet foods for breakfast, it can seem pretty strange to hear that others eat the likes of meat and rice. Yet, that's exactly what they do in Indonesia – and they love it!
They fill up their plates in the morning to ensure that they are fully prepped and ready for a day of work and school, and normally eat a variety of foods. This normally includes yummy delights such as rice, fried eggs, chicken porridge, fried fish, and more. Of course, there's also some fruit and veg thrown into the mix, too!
Pakistan
Although there are many countries in this world that make a distinction between breakfast and other meals, the people of Pakistan aren't too fussed about what breakfast means to them. In fact, they are particularly fond of having a curry for breakfast!
One of the most typical breakfast dishes in this country is nihari, which is a curry dish laden with spicy meat and then served with naan. Breakfast differs slightly on a Sunday when they instead opt for halwa poori, which is a sweet curry served with beans or potatoes. It looks pretty delicious if you ask us.
Cambodia
Is a trip to Cambodia on the cards for you? If it is, then you'll be happy to know that the breakfast is delicious. Rather than filling their plates with all kinds of food, the people of Cambodia prefer to fill their bowls with all kinds of food instead!
That's because they love to eat something called Kuy Teav, which is a rice noodle soup that is then topped with all kinds of vegetables and meats. The best thing about this dish is that you really can make it the way you want it to be. You can add what you want, you can take away what you want, and you can enjoy it the way you want.
Colombia
Although every country in the world is different in terms of its breakfast, it seems as though the differences don't end there. That's because these dishes can also change within a country. It's been noted that a typical Colombian breakfast differs as you make your way around the country, but they follow the same kind of pattern.
For the most part, this involves leftover food from the night before so that nothing goes to waste. This also makes breakfast so much easier in the morning, because you don't have to worry about cooking anything else. Sounds good to us.
Turkey
Turkish food is famous across the world, and it seems as though natives and tourists alike can't get enough of this cuisine. While many people cross the globe to try their traditional meze dinners, the same can be said for their breakfast.
It's a very similar set-up when it comes to a Turkish breakfast, as you pick from various different food groups to make one epic conglomeration. This normally includes the likes of olives, jams, bread, eggs, meat, cheese, and a whole load of fruit. It's a varied breakfast, and one we definitely want to try. Anyone fancy a trip to Turkey?
Japan
Japan is famous for so many things, which means that it's easy for their breakfast to slip under the radar without the recognition it deserves. In fact, there are two different Japanese breakfasts to choose from! A wafuu breakfast is a traditional Japanese breakfast and consists of soups, fish, rice, seaweed, and other savory items.
However, the youfuu breakfast is more Western-inspired and features foods such as potato salad, butter and toast, eggs, coffee, and more. The choice is yours when you go to Japan, and you can choose which one you would rather. Or, alternatively, you could have both.
Guyana
Located in South America, Guyana often flies under the radar – until you learn about their breakfast. The people of this country like to ensure that they are properly fed before the day ahead of them, and they are big fans of meat, fish, and bread.
These stodgy and filling foods are perfect to keep the hunger pains away, and it certainly helps that their recipes are delicious. One of the most popular dishes in Guyana is bake and saltfish. Bake is a beautiful fried bread that is the perfect addition to any meal, and saltfish consists of a fillet of whitefish that has been preserved in salt.
Southern India
Although there are many countries in this world that prefer sweet treats in the morning, it seems as though the people of Southern India are all about the savory. Yes, one of the most popular breakfast dishes in Southern India is actually a combination of savory dishes that create one big feast.
This includes a vegetable stew with rice bread and steamed lentils, often called idli and sambar, as well as something called a dosa. This is a thin pancake that's filled with delicious potato and all kinds of spices. Well, that would certainly be enough to fill you up!
Morocco
Unlike many other countries around the world, it seems as though the people of Morocco tend to prefer a sweet breakfast over a savory one. Of course, no breakfast in this country would be complete without a glass or two of mint tea or Turkish coffee, and then they have the chance to chow down on some beautiful foods.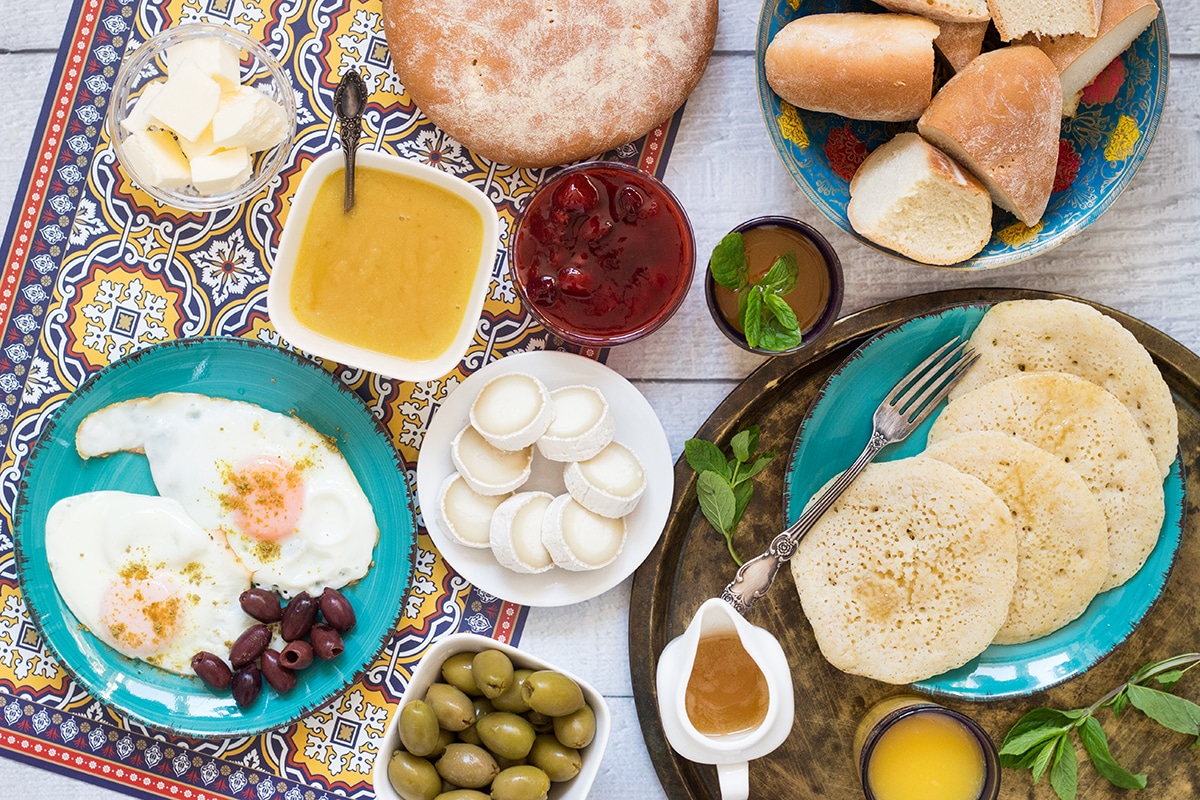 This includes sweet bread, olives, honey, jams, dates, and all kinds of food. This is normally placed in the middle of a table, where those in the family can simply pick and choose what they want to eat. There's a high chance that we would soon run out of space on our plate…
The Philippines
The Philippines is renowned for its impressive culture and the food that they eat on a regular basis, and we have a feeling that you'll want to head to this country sometime soon. Their breakfast is truly something special, and it really does need to be tasted to be believed.
Although many people in the Philippines eat coffee and bread rolls before a big day ahead of them, they sometimes add something a bit more substantial into the mix. Yes, tapsilog is often on the menu, and this dish is made using rice, dried meat, and a fried egg on top.
Iran
If you've always wanted to go to Iran but have always found a reason not to, then let their breakfast be the perfect opportunity to book that vacation. That's because the breakfast trend in Iran is delicious and filling all at the same time, and it's also something different.
The people here start their day with sweet black tea and fill their stomachs with all kinds of delicious foods. This normally consists of fruit, nuts, bread, cheese, and butter. They normally eat small pieces of various different foods, rather than one main meal. That's the kind of meal we're talking about.
Brazil
If Brazil is on your bucket list, then we're just about to give you one more reason to book your flights. That's because the food in Brazil really does need to be seen to be believed, and will leave you wondering why you had never tried it before. The breakfast is particularly special, and the Pão de Queijo particularly popular in the country.
This dish is often translated as "bread cheese" and is served in little balls. As you tuck into these balls, you wash them down with a nice cup of strong coffee. Then, you are ready to start your day and take the world by storm.
Lebanon
If you're not the kind of person that likes to feel overwhelmed with food in the morning, then we have a feeling that Lebanese cuisine will be right up your street. Although they like to make sure that they have the power to get them through the day, they don't fill their stomachs with a huge amount of food – and normally only stick to one dish!
A typical breakfast in this country consists of Manakish, which is a tasty flatbread. This bread is then flavored with cheese and za'atar, and then often served with vegetables such as tomatoes. It's simple and effective, and it's also pretty delicious.
Central India
There is a big difference between breakfast in Southern India and breakfast in Central India. So, which one would you rather? If you ever find yourself in Central India, you can rest easy knowing that you will be filled up for the rest of the day and that you'll also get to try some of the amazing flavors within this cuisine.
The typical breakfast is called uttapam, and this consists of a beautifully thick pancake that is then served with a variety of additions and condiments. This normally includes sweet and savory chutneys and even some vegetables on the side.
Israel
If you've never been to Israel, then this breakfast will have you booking your flights in no time. After all, who wouldn't want to eat shakshuka every morning? This breakfast tastes as good as it looks, and it's hardly surprising. A breakfast dish that's full of tomato sauce and poached eggs is always going to be delicious.
Of course, the breakfast options don't end there. If you make your way to any eatery for breakfast in Israel, you will normally be offered the chance to partake in foods such as bread and butter, salad, cheese, omelets, spreads, and more.
Italy
If you've ever been to Italy, you'll know that they pride themselves on their food. You can't visit Rome without trying out the different gelato flavors, you can't head to Milan without having a slice (or ten) of pizza, and you definitely can't check out Venice without having some pasta. But have you ever wondered what Italians eat for breakfast?
Well, they obviously keep their breakfast light to save room for their epic dinners. That's because they fill their stomachs with just a coffee and a few slices of bread in the morning. Gotta have that Italian coffee, after all.
Poland
Have you ever been to Poland? If you have, you'll know that Polish people love to fill up their stomachs with wholesome food in the mornings. They love to know that they are prepared for the day ahead, and they like to make sure that they won't have to deal with any hunger pains before lunchtime.
So, they create a well balanced and rich meal for themselves. One of the most popular breakfast dishes in the country is scrambled eggs on top of some potato pancakes, with some added kielbasa sausage on top. Yes, it's safe to say that we are now pretty hungry.
Venezuela
Have you always wanted to visit Venezuela? Well, it seems as though you're in for an even bigger treat when you wake up in the morning. That's because the people of Venezuela know how to make their breakfast experience special, and they know just how to mix their foods together.
During the week, a typical breakfast consists of a flat corn cake called arepa. This is then filled with various savory meats. At the weekend, however, the people of Venezuela like to fill themselves up a bit more. They shove everything from meats and cheeses, to vegetables and eggs on their plate. Just look at it!
Nigeria
Just like in Colombia, the breakfast in Nigeria is pretty interchangeable. It not only differs from area to area, but it also differs from tribe to tribe. This means that you can make your way around the whole country and try a brand new breakfast every single day! However, to get an idea of what they eat in Nigeria, we can look at the Yoruba tribe.
With over 44 million people within this tribe, they start their day with a delicious breakfast full of Ogi and Akara. These are cakes made from beans and cornmeal, alongside a cereal pudding. As if that wasn't enough, they also top off their dish with fried plantain, yams, and eggs.
Australia
If you head to Australia for breakfast then you may find yourself in a bit of a predicament. You see, over there, it's quite common to have Vegemite for breakfast… But it's a very love it or hate it kind of food.
This thick black spread is made from leftover yeast extract, along with some extra herbs and spices, and is very similar to the brand Marmite you might find in other countries. Aussies love this bitter spread on toast to start the day.
Mexico
Mexico is another country that turns breakfast on its head, as they serve up the kind of food most Americans would associate with dinner. Breakfast burritos, anyone? One of their most popular breakfast dishes is something called a mollete, which is like an open sandwich.
Usually filled with beans, egg, and cheese, this is one seriously delicious breakfast that you'll want to make back home. Even if it does look a bit like a canape that you'd have at a dinner party!
South Korea
In South Korea, it's quite common for locals to eat breakfast, lunch and dinner interchangeably. What could be eaten for dinner may also be eaten for breakfast, and so on. While this may look like the kind of feast you'd tuck into with friends for dinner, this is actually a common breakfast meal in South Korea.
It consists of a large spicy meat dish, some porridge, a bit of rice, several other side dishes, and of course, Kimchi. No Koreans eat anything without their beloved Kimchi!
Guatemala
There are no worries about the people of Guatemala feeling hungry as soon as they've finished their breakfast! It's one of the biggest and most filling breakfasts on the planet; usually consisting of steak, fried plantains, black beans, tortillas, and crema.
A lot of breakfast establishments open as early as 5 am, as Guatemalans are really serious about getting their first meal of the day in before they start work. By the time you've finished this mammoth meal, it'll probably be time for lunch.
Taiwan
If you're all about the carbs and eggs for breakfast (who isn't?!), then you need to head to Taiwan right away. We're talking about buns and cakes galore here, but not the kind you'd find in any American bakery. Instead, they're packed full of egg, meat, and even turnips.
One of their specialties is Northern Salted Soybean Milk (Bei Fan Dou Jiang) which is made from wooden ear, mushroom, shrimp, lily flower, preserved vegetables, and cornstarch. Um, delicious, we're sure.
Panama
If you thought breakfast in Guatemala was hearty, just wait until you head to Panama. These guys are all about their corn tortillas, which comes with pretty much any breakfast dish you order. Unlike other Latin American countries, Panamanians fry their tortillas to make it crispy and delicious.
They'll then serve it with something like carne o salchicha guisada, which is a filling stew usually made with beef strips or hotdog meat. There is no way you'll feel hungry after breakfast in Panama.
Malaysia
There are so many different types of breakfasts in Malaysia that you could stay for weeks and still not try them all. This is another country that seems to serve up food that most of us would consider to be dinner food, including Dim Sum and stir fried noodles.
However, one of their most popular breakfast dishes is called Bak Kut Teh which literally translates to "meat bone tea." Yep, you're eating meaty, boney goodness for breakfast. It's usually made using various slow-cooked pork parts.
Denmark
Danish people have one of the highest consumptions of coffee per capita in the world! But it isn't just coffee that they like to tuck into for breakfast, they do try and get some solids in there too. One of the biggest differences between the Danes and the Americans is that they quite enjoy soured milk with their cereals… Yummy!
One of the most popular breakfast dishes in Denmark is called Øllebrød. Sure, it might look a bit gross, but it's actually quite delicious (apparently).
Vietnam
If you like to start your day off with a bit of a spicy kick, instead of boring toast or cereal, then you may want to head to Vietnam. They're renowned for serving up food full of flavor whatever the time of day, and their breakfast dishes are interchangeable with lunch and dinner.
Street vendors open up early to serve hungry customers, as breakfast is an important meal in Vietnam. One notable dish is something called Mien (or cellophane noodles) which are gelatinous glassy noodles, usually served with fish.
Serbia
At first glance, a lot of Serbian breakfast food may feel quite familiar… However, if you then make your way to a local restaurant for a traditional Serbian breakfast, it might not be quite that familiar.
Some of their most popular breakfast foods include Burek which are thin, rolled up pastries filled with delicious goodies, and Kačamak which is a less than appetizing looking maize porridge. We think we'd prefer to stick with the Burek, if we're being totally honest.
Scotland
While you may get a Full English Breakfast in most parts of the UK, Scotland does like its independence – even when it comes to breakfast. So, while the majority of their breakfast offerings are quite similar, they do have some 'outside of the box' additions if you want to make it more traditional.
Black pudding is, of course, a must. However, some Scots will tuck into haggis for breakfast which is sheep's stomach filled with the animal's heart, liver, lungs, and… do we need to go on?
Jamaica
Wherever you go in Jamaica, you're likely to be offered up some kind of saltfish dish for breakfast. If you're not a huge fan of fish in the morning, then tough! Saltfish fritters (flitters), Jamaican Johnny Cakes (with salt mackerel), ackee and saltfish, steamed cabbage and saltfish…
They really are obsessed! They do always have their cornmeal porridge to fall back on, if your stomach isn't strong enough for salted fish in the morning. Oh, and not forgetting their delicious plantain, of course!